Do You Want to Look Like a Viking?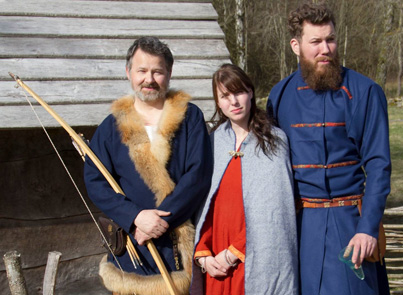 Vi på Viking Age Clothing hjälper återskapare att skapa trovärdiga vikingakläder genom att erbjuda kunskap, material och redskap för olika ambitionsnivåer - alltid baserat på aktuell forskning. Vikingatida re-enactment växer mer och mer. För att kunna bidra till och delta i en värld som känns som vikingatid behöver vi kläder; kläder som gör att vi ser ut som och känner oss som vikingar. Precis det vill vi hjälpa er med.
Välkommen till vår webshop. Här kan du hitta våra mönster, garner, tyger och sybehör. Målet är att du ska kunna hitta allt du behöver för att kunna skapa dig en trovärdig vikingaklädsel här. Du kan alltså förvänta dig en hel del nyheter framöver. Vi har vår bas utanför Göteborg i Sverige, men säljer och skeppar över hela världen.
Who are We?
Hi, my name is Susanna Broomé and I run Viking Age Clothing with help from my family and friends.
I have been doing Viking age living history since the beginning of the 1990s and all this time my main interest has been clothing. I have read all scientific litterature I have been able to find within the area and made clothes based on that. The first version of my pattern was created already in the middle of the 1990s, to be followed but several updates.
I love to learn more, so I always keep an eye on news about Viking age clothing and textile handicrafts. During later years I have also focused on the Vendel period; the period before the Viking age. I find it even more exciting, with even fewer finds and more needs for guessing. My dream is to come as close as possible to how people looked and in that way wake a part of the past to life again.
On Monday we will go on vacation for two week. We can send smaller shipments with pattern booklets during that time, but all other orders will have to wait until we are back on August 5.